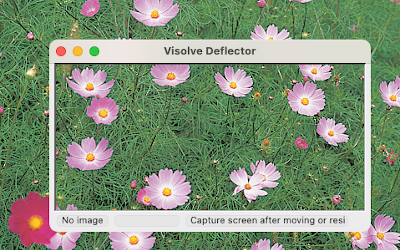 When you run Visolve Deflector, it will show the following frame window. You can do the three basic operations as follows:
To capture the screen image

select the "Capture image" item in the menu after moving or resizing the frame window. After capturing image, the message on the left part of status bar at the bottom of the window changes from "No image" to "Captured," and the Transform menu is enabled.

To apply the color transformation

select the "Red-Green", "Blue-Yellow", "Increase saturation", the four types of "filter", or the "Hatching" item in the Transform menu.

To clear the image

select the "Clear image" item in the menu. And then return to the initial state.