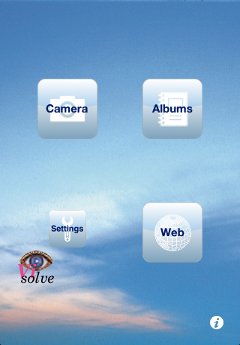 Visolve for iPhone can apply the color transformations, filtering, and hatching, which are same as PC version, to an image taken by camera or saved in Photo Albums, or a webpage being displayed. You can take an image and transform its colors anywhere on the spot when you find a scene or a signage, etc., which consist of indiscriminable colors. (※In contrast,
Visolve RT for iPhone
can apply the transformations to the live video preview.)
Additionally, it can simulate the appearance of an image for people with color blindness. By using this feature, people with normal color vision can check how color-blind people see a scene or a signage, etc.
The right screenshot is the main menu shown when you start Visolve for iPhone. From this menu, you can activate the camera function, select an image from Photo Albums, or specify a web page. Moreover, you can show the setting view to configure transform degree, transform options, and application behavior.
You can watch the short video to see how it works.
Requires: iOS 11.0 or later
Language: English / Japanese
(Universal app optimized for iPhone and iPad)